How to Battle Boredom in Schools


– get more energy in class and more thriving students



Online course gives you strategies and hands-on tools in practicing engaging education based on research and years of practice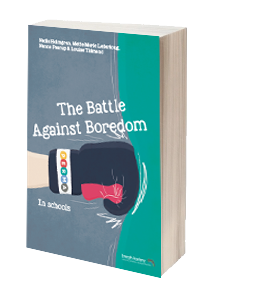 BOOK OF THE YEAR 2019 – FOR TEACHERS IN DENMARK
This is what you get!

Online course for the duration of 6 weeks

RESEARCH-BASED KNOWLEDGE

6 online sessions with all you need to know on boredom, flourishing and teaching.

HANDS-ON MATERIALS AND TOOLS

Exercises and materials to use directly in class to make students more engaged.

COMMUNITY & LIVE SESSIONS

Join forces and help each other. Your  community share and inspire.

Does this occur in your teaching?
Students are not learning well
Students are tuning out
Students are not thriving
Low engagement
Low energy and involvement
Low job-satisfaction
Change your job life with us

Make your teaching even more involving and energized in just 6 weeks

Learn the strategies to prevent your students from tuning out of class
Get more students to thrive, flourish and learn
Be part of a community to develop your teaching
Experience the difference and be inspired
Online course, more details

Each of the 6 modules have a wide range of videos and materials to use in class: 
Introduction to boredom and PERMA
Raising positive emotions in students and teachers
Increasing engagement in class
Promoting positive relations in the classroom
Providing meaningfulness and relevance in content
Creating opportunities to accomplish
JOIN US NOW

All you need to do is to decide to join and commit. Expect to use 2 hours pr. week on materials and community ... and to use time in class training.

Bring your colleague and get 2 for 1, if you sign up together.
Meet your guides on this course

Dr. Louise Tidmand, Master of Positive Psychology Nanna Paarup and Dr. Mette Marie Ledertoug

"Can we really change teaching in a way that would free children from "waiting for the bell to ring"?
The authors invite us to take an engaging path towards becoming impactful educators, while translating research-findings into daily applications and exercises for various educational settings. This is a gem for educators; a resource for ideas, reflections and advice for enhancing engagement, and optimizing well-being and meaningful learning and teaching."

Shiri Lavy

Ph.D., The Department of Leadership and Policy in Education, The University of Haifa

"I believe this book would be a most valuable read for all teachers. It emphasizes on how critical teacher relationships are with their students and how important it is for teachers to complement their teaching with elements of PERMA if they hope to reduce the serious issue of student boredom in an educational setting."

Charlie Scudamore

Vice Principal at Geelong Grammar School, Melbourne, Australia

"All teachers should read this book."

Martin Seligman

Professor of Psychology, the University of Pennsylvania
Let's get in contact

If you want to know more, send us a question on email: mail@strength.academy or sign up below to receive information.

We hate spam too. Unsubscribe at any time.